---

Here are some details on how to contact us - by telephone, fax, mail...
Our Address:
7th Floor JPR Nagoya Sakae Bldg.
3-24-24 Nishiki, Naka-ku, Nagoya-shi
Aichi 460-0003 Japan

Internet:
E-mail: pnbnagoya@pnbtokyo.co.jp
Website: www.pnbtokyo.co.jp/nagoya

Call or FAX Us
Phone Number: 052-968-1800,
Free dial: 0120-143-633
Rates Information: 052-968-1101 (24 hrs.)
Fax (24 hrs.): 052-968-1900

---

...or why not drop by at our office. Feel at home, lots of kababayans and free tagalog newspapers.
...By Train
Only one minute from Sakae station (Subway Meijo and Higashiyama Lines) Please take the Sakae Chika Exit No. 9
http://www.jnto.go.jp/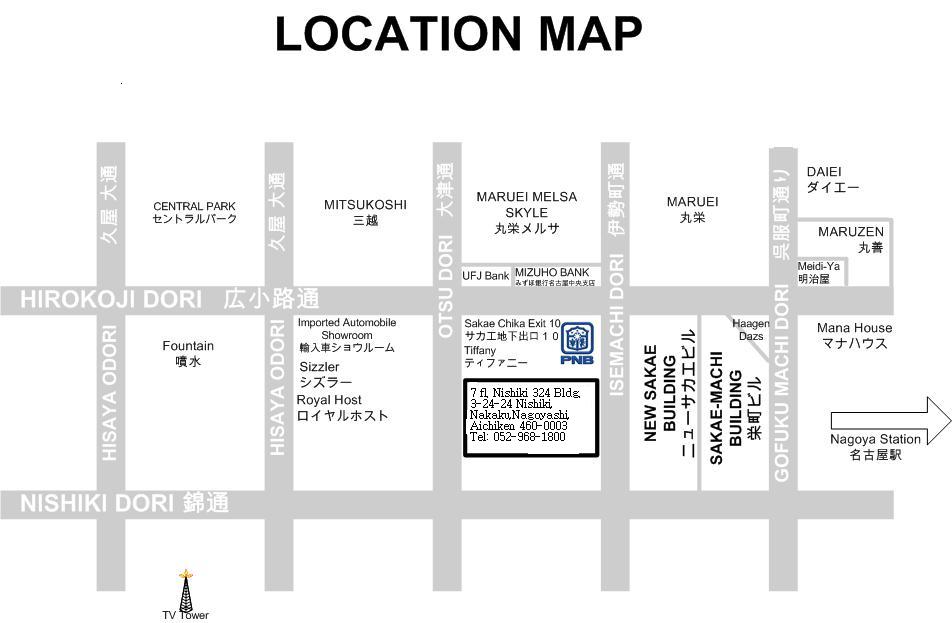 Along route 1(Sakurada dori) look for Kamiyacho Eki. Please refer to the map belo
w. Detailed stree